Chew on It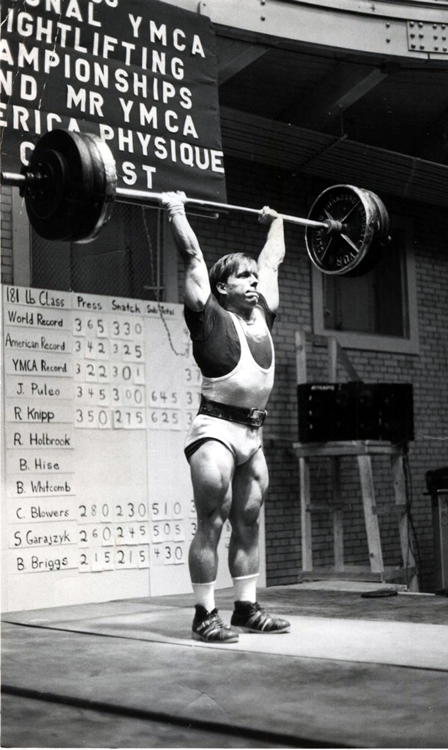 Going to a weightlifting meet is kind of like eating beef jerky. You have to take some time to chew on it in order to extract everything available from it. Hopefully you learn something that you can use in preparation for your next effort. In addition, other impressions linger after you've had a few days to sort things out and reflect.
This year the USAW National Masters was held at the Moorestown Weightlifting Club in Moorestown, NJ 3/8-3/10. Joe DeLago and everyone there worked terrifically hard in order to make this meet come off successfully. It was great visiting with old friends and hearing the golden tones of Denis Reno on the microphone again for many sessions. I didn't have my best day on the platform, but that's what I get for falling into a leisurely state over the Christmas holidays and then having to re-constitute myself. I'll make sure not to do that next year as I don't think the relaxation was worth it.
A couple things hit me in a major way this year at the meet. I saw two competitors lifting on artificial joints (in this case, knees). At present there are five guys doing this on assorted parts, and I joked with Dave Meltzer that he should maybe do a set of logarithms for a titanium division. All joking aside, I am awed at the determination and fortitude displayed by those competitors…improvise, adapt, and overcome – in the flesh. If you want to see valiant effort from men and women of all ages 35 and over, attend a National Masters sometime. You will be impressed with the earnestness, determination, and sheer effort the competitors display. T
he other major happening to my mind occurred at the banquet and business meeting. This is typically held after the second day of competition and all business pertinent to USAW Masters is covered then. This year the topic of drug testing for the National Masters came up under "old business." The question/concern was raised at last year's meeting with the matter deferred until this year's meeting. For World and Pan-American Masters championships, drug testing is a requirement that's been in place since 1993. I know it sounds a little far-fetched to be concerned about competitors 35 and older using PED's, but in fact it's turned out that it isn't. Since 1993, I've seen positive tests as far north as the 60-64 age group and two which disqualified competitors in my weight class and age group (50-54) in 2000 and 2001. I have competed against other athletes who were not tested but who, according to third parties that I trust, were using. Can't prove it, but there it is. Whatever your stand on the issue, organizationally it's more difficult to promote Olympic Weightlifting as a boon to older competitors with this kind of situation as part of the mix. So, at this meeting the matter reared up from the agenda, with a motion made and seconded to put it to a vote of those registered Masters assembled. The testing would be done by USADA at the National Masters and administered randomly at the rate of ten competitors per championship. It would cost an extra $25 per entry to pay for the testing as it had to come from the athletes and not the general fund. Quite a lot of discussion ensued before the vote regarding cost and protocols, and the vote was close. The motion passed, 25-23. There will now be drug testing at the USAW National Masters. It's been a long time in coming, but the requirements for our nationals are, after twenty years, now in line with our international requirements. As we are all aware, the USAW runs the cleanest weightlifting program in the world for our open and junior programs. The Masters division has now come full circle to join this effort.